Marina/Esther – against the withdrawals IX
Marina: "So…you, me, and that little cabin in the mountains I mentioned before we got canceled? We could go sleigh-riding, even…"
Esther: "…and if we stay in, use the fireplace and scandalize our least favorite right-wing grandma?"
…
Welcome, faithful TdU-lers! Today we celebrate the 9th ATW. Which means we'll get 9 1/2 weeks for Christmas. In a manner of speaking.
You remember that film festival that we mentioned two weeks ago? The one were Alessia Barela was a presenter, and Elisabetta Rocchetti got presented with an award? The event took place in Rome on Dec. 11th, and the fans are back with plenty of material. SuperTeresona provides us with video footage, as does bstones87 (ABFC's Black) here. Thank you, girls for letting us participate and sharing the goodies with us!

Since everybody was busy or going to Rome, or being in Rome, or being mad about not being able to go to Rome (and in single instances even drawing comics about it), or following the live tag feed from Rome, nobody had the time to make any Marina/Esther fanvids this week (but we hope for cheesy Christmas editions!)
…
The Etrurian Film Festival did, of course, also merit a load of photos. Sosa1 shares her impressions here on the Italian board (and a more personal one here – lucky girl!). Silvia74 shares her fan photo with Ms. Rocchetti here, and let me use that moment to point out that there is also a spiffy new fan forum dedicated to Elisabetta Rocchetti that awaits your visits (language so far only Italian). And there's a general festival coverage thread on the Italian board, headed by Teresona.
Of course the Alessia Barela Fanclub has their own photo thread and two video threads (here and here) about the recent festival, while there is also a new photo vote available this week (festival footage included).
…
News in the graphics section:
Lang from the Chinese Marina/Esther community outdid herself with a bilingual pro-Marina/Esther campaign based on historic Chinese posters – check it out here. Thanks for all the work you put into this, Lang, and even more thanks for also putting up the captions in English! Someone should send this on to cast and crew. (Rishi? May? Booklet?)
Also, rishi06 has been at it again – relating what happens when fellow fans go to a film festival and later send you texts that they're dining with you favorite actress. At least rishi06 gets funny cartoons and  some nice shoulder muscle from a night of push-ups out of it, while for the rest of us, it will likely be a night of push-ups only…
…
For the fan fiction, you all know the way to the Italian board already. The two English stories mentioned last week are still being edited; but since I am writing this on Thursday (I will be on the road all day tomorrow until very late into the night), there may be corrections in this paragraph on Saturday with late Friday news… Other good news is that Shay is also contemplating writing an English Marina/Esther story – the more the merrier!
…
"Against the Withdrawals 9 – Screenshot Edition XXL: A Christmas Romance"
(as always: all images, click to enlarge)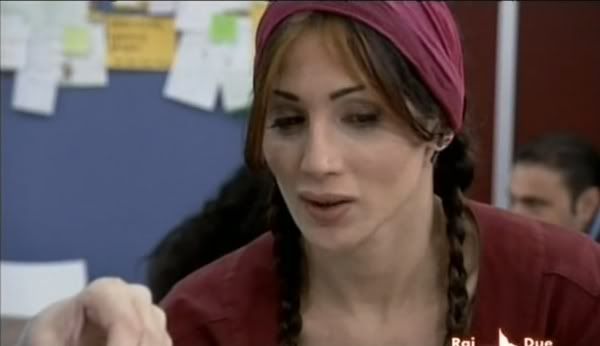 Esther: "So both Marina and I are stuck with double shifts over the holidays… and we didn't really get to talk since… well, since taking the elevator together. Perhaps I could organize something for Christmas?"
…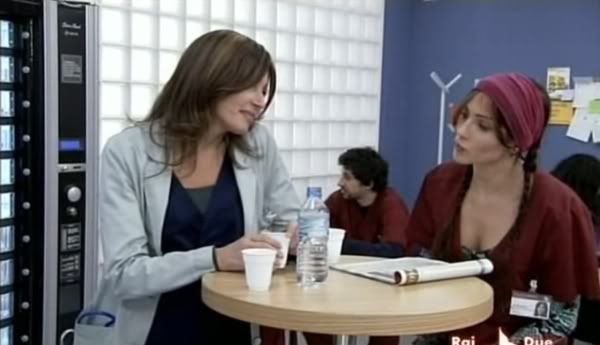 Esther: "Do you think I should try and organize something romantic to see whether Marina gives me a chance?"
Gandini: "Go for it honey, because if you won't do it, I will."
…
Malosti: "Asking her to dinner, but smooth. It has to be smooth, so that I don't come off looking needy, or too interested. I'll just tell her she can come over for pizza if she has nothing better to do. Yes, that sounds smooth enough…"
…
Mal0sti: "Hey Giulia, what's that you're drawing? S+G and little hearts? Do we have a new supplier for cardiac health care articles?"
Giulia: "Uh…. *cough* yes, that's it, exactly…"
…
Teresa: "And I'm telling you, duck when you see the Ranieri approaching. She's in a horrible mood today. Ah well, what else is new?"
…
Esther: "Hmm… perhaps I could do something about that horrible mood. I already have a few ideas."
…
Marina: "Great. The new one in the team has to work the Christmas shifts. And here I wanted to ask Esther whether she would come along to my cabin in the mountains. She might even have agreed this time! But no, instead I'm stuck here on Christmas Eve."
…
Marina: *Breathe, Marina, breathe.  Think of something happy. Snowflakes, hot chocolate, Esther in an elevator, snowflakes melting…* "What is it, Teresa?"
…
Marina: "I have to WHAT? Work the whole Christmas WEEK?"
…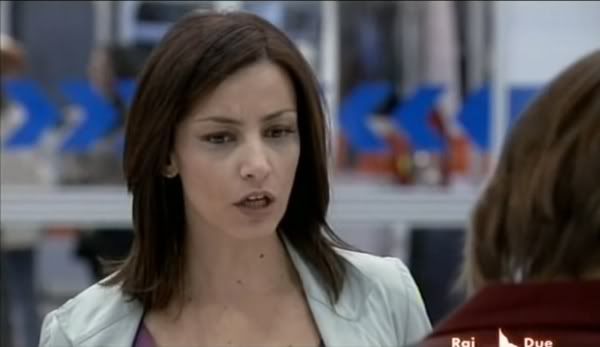 Marina: "That's not fair! I wanted to spend at least New Year's Eve in my house in the mountains!"
…
Teresa: "Well, suck it up and quit whining,woman. – Other people don't even a house in the mountains they could go to!"
…
Teresa: "And then I told her to shut up and quit the fuss.You should have seen her face! Who would have thought the Ranieri would be that easy to unsettle…"
Esther (overhearing): *Damn it, I really need to do something, and quick. Otherwise Marina will kill Terry. Or I will, if she keeps gloating."
…
Giulia: "Sure, I think we can exempt Marina from Christmas week duty… I'll just talk with Serg…eh, with the boss. Who owes me some coughsexualcough favors. But I can't just take you off the duty roster for the week, as well -"
Esther: "I'd do your Sunday shifts for the whole spring, but I need the week off, please! – And you can always simply give Aldo a few more shifts…"
…
Giulia: "Did you say the magical word 'Sunday shifts'?"
…
Giulia: "Throw in my late shift for today and we have a deal!"
Esther: "Done. – Now I just need to explain to Marina that if she works Sundays all spring, I'll always bring breakfast for the two of us…"
…
Esther: "Yes, the cabin of Dr. Ranieri. – I'm, uh, the secretary. That's it. The personal secretary. Very personal. – The doctor in an operation right now, but she wants the cabin readyby nightfall. – Oh, and stoke up the wood for the fireplace. I hear she wants to spend most of the time inside and with little clothes on."
…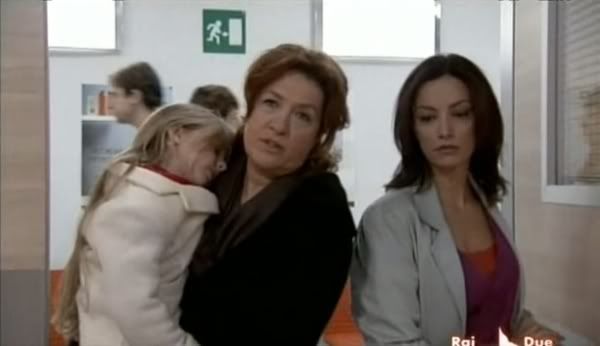 Marina *Great, this day is going from bad to worse. Esther's shift is nearly over, I haven't even seen her yet, and to top it off, Hortense Homophobe is back to grate on my nerves.*
…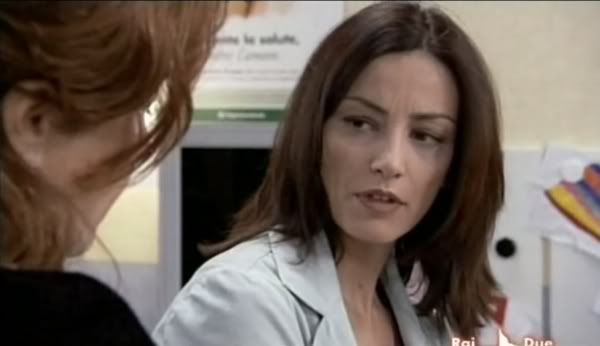 Mrs. Raimoigeratzi: "…and of course I immediately signed the Vatican paper to keep the declaration on homosexuality out of the UN, those depraved…"
Marina: "Listen, Grandma. Today is not the day where you want to get on my wrong side, you understand?"
…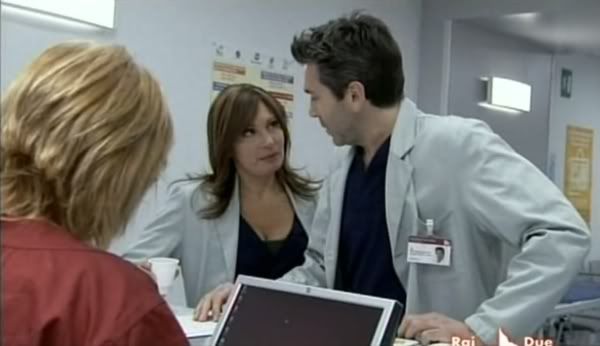 Gandini: "So, you were saying about dinner…? I'm all ears."
Malosti: "Well, nothing special, you know. Just some pizza, no mushy Christmas stuff, we could argue some more and of course you'll do the dishes in the end…"
…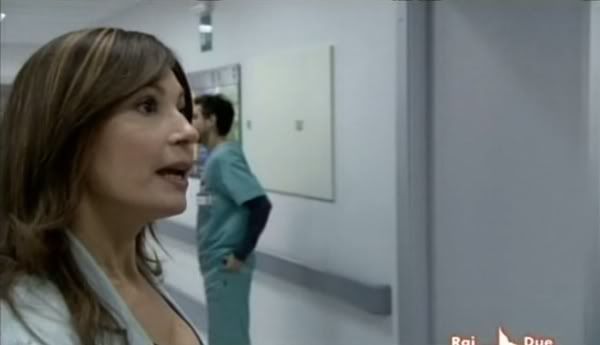 Gandini: "What? You want to invite me over for dinner so that I do the dishes? – Men! This is the last time I've tried to have a romantic Christmas with one of them!!"
…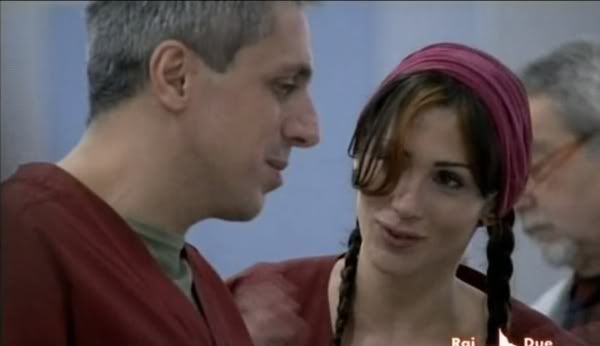 Esther: "Rocco, I need you opinion… this is my Christmas gift for Marina. What do you think?"
…
Rocco: "Mhmm, very nice. She'll get cold in that pretty quickly, though… and, uhm, isn't that a little bit too long for her?"
Esther: "She's not the one who's supposed to wear it. – She's just supposed to take it off me…"
Rocco: *gulp* *Dr. Ranieri, you're one lucky woman…*
…
Marina: "This is officially the worst Christmas ever. I'm stuck in here a week in a row, with Esther being off to celebrate with God knows whom. Like this, I can't even ask her to have dinner with me one night, since I'll be on call every night! And now her shift ended already and she hasn't even stopped by to wish me a Merry Christmas…"
…
Sergio: "Don't get me wrong, I'm VERY happy you got out of that late shift. But, uhm do you really think our colleagues will buy the story that you have to be on a congress? On Christmas Eve?"
Giulia: "They better. Especially since I already told them that you have to be at the same congress…"
…
Teresa: "So, I heard you took the week off, Esther? In change for a whole lot of Sunday shifts? Say, you wouldn't be planning something special, would you?"
Rocco: "Yeah, something special with someone special, involving expensive lingerie…?"
…
Esther (between teeth): "Rocco, you are SO dead."
…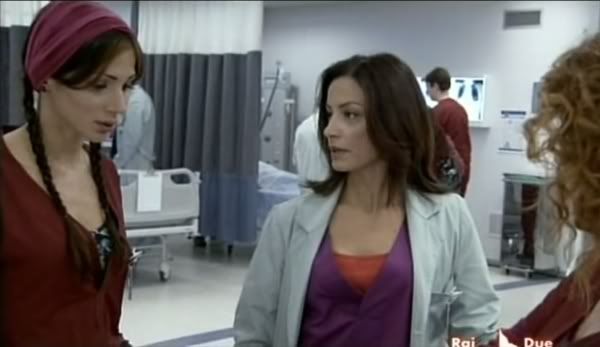 Marina (very grumpy): "Oh, Esther. – Who would have guessed you were still around? And here I thought we had at least advanced to "Merry Christmas" in between colleagues. – Hard to believe that you saw a mistletoe where there was none the other week…"
Esther: *ouch*
…
Marina: "I'll just close my eyes and wish I was somewhere else with someone who cares enough to wish me a merry Christmas (and I hope this distracts you enough from how I'm trying to unobtrusively touch your hand while I hand you this folder)."
…
Giulia: "Wow, that is some impressive bad mood there. Did you do something that rubbed her the wrong way?"
Esther (under her breath): "Rather, the right way, which is the problem…"
Giulia: "Well, you won't have to see her for a week, right? So… are you planning something special with your free days?"
Esther: "Well, it involves me and a cabin in the mountains, and a Dr. Ranieri who will hopefully be in a better mood…"
…
Giulia: "You. And Dr. Ranieri. Alone in the mountains. – Are you crazy? You two don't manage five minutes without fighting. – What an earth are you going to do for a whole week? That's a getaway for lovers!"
Esther: "Uh…"
Giulia: "On second thought, scratch that question."
…
Marina: "Damn. I shouldn't have lost my temper with Esther. Now I'll be lucky if she even looks at me in the New Year. I really have to come up with something nice to apologize. It's just… darn, I really hoped she would at least give me a smile for Christmas."
…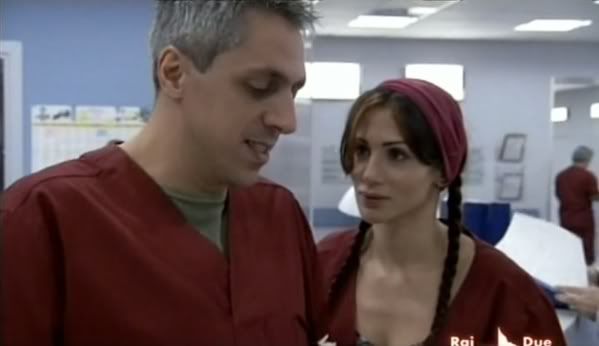 Rocco: "Here you go. Doesn't matter if you've never stoked a fireplace before, with this, you've got the fire going in two minutes. And the kindling of other flames, well, I don't think you'll need any help there…"
Esther: "Thanks, Rocco. – I'd send you a postcard from the mountains, but I don't really plan on leaving that cabin."
…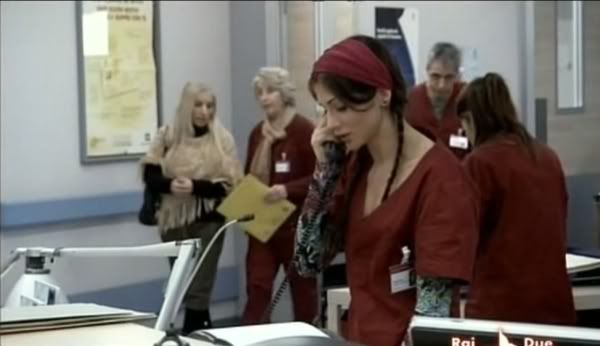 "Yes, flowers. Express service. Right now! – And make the card read, 'Merry Christmas. I'll be looking for a mistletoe twig when your shift ends… I think I saw one in the parking lot…'"
…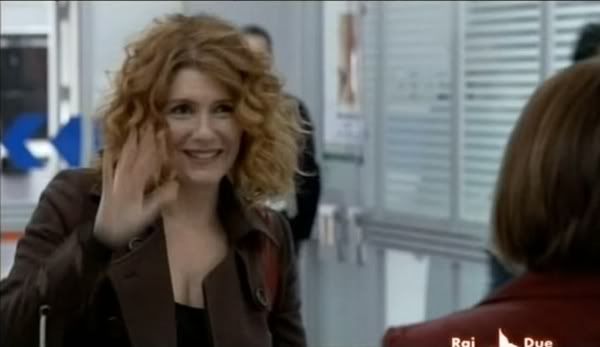 Giulia: "Merry Christmas, Ladies! I'm off to that conference… ah yes, work never ends…"
…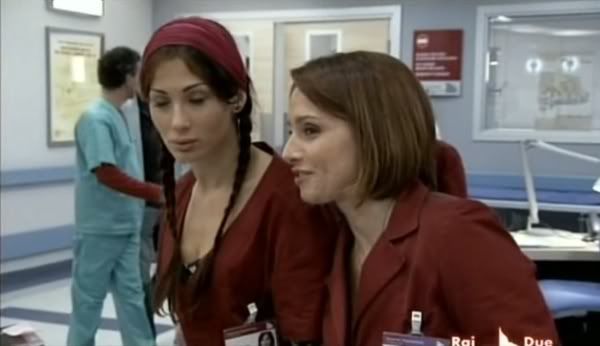 Teresa: "Conference? For what? A cleavage conference? – I'm telling you, she'll be peeled out of that shirt by very impatient hands before the evening is over."
Esther: *and with any luck, she won't be the only one…*
…
Gandini: "Really, I've been so blind. Girl Toys are so much better than Boy Toys! – I'll see you for dinner, Sweetie."
Girl Toy: "Keep that coat until then and you're on for dessert. …oh, and did I mention that I am good with massages, Doctor?"
…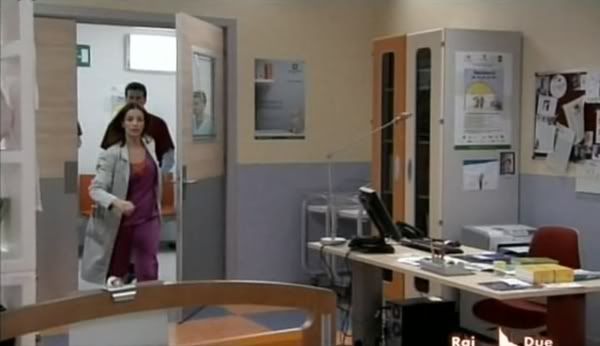 Marina: "Flowers? Somebody said there were flowers delivered for me?!"
…
Marina (reading): "… I'll be looking for a mistletoe twig… in the parking lot… PS. You don't need to pack anything, but if you take along that white coat, be prepared to lose it quickly."
…

Marina: *melts*
…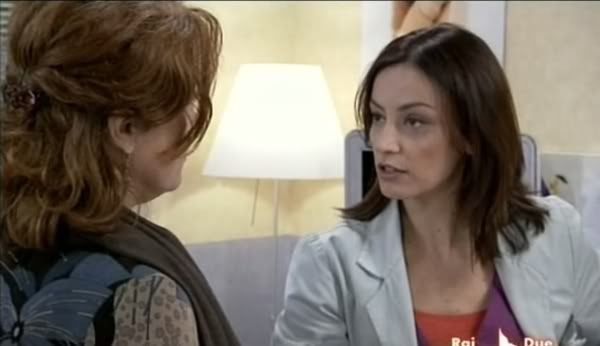 Mrs. Raimoigeratzi: "And then I'll be in that new musical, "The Pope and I", and…"
Marina: "Cut it, grandma. I'm out of here to see my future GIRLFRIEND. – As our receptionist would put it: Suck it up and quit the whining!"
…
Esther: "It's getting cold in this outfit… Oh wait, there she is! That is her car. Darn, now I'm nervous. What if she doesn't want to spend the week with me?"
…
Esther: "Uhm, hey…"
Marina: "Hey… thanks for the flowers, they're beautiful."
Esther: "I've got a surprise for you…"
Marina: "Another one?"
Esther: "How about…you and me and your cabin in the mountains for Christmas week?"
…
Marina (dumbfounded): "But… uh… I have to work…"
…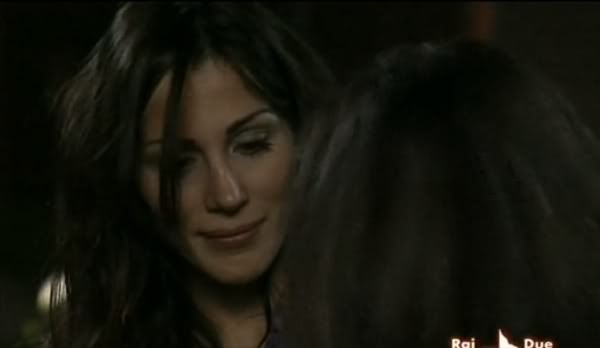 Esther: "No, you don't. Giulia slept with the boss to get you a week off, but I don't think she did mind. So… are we going?"
…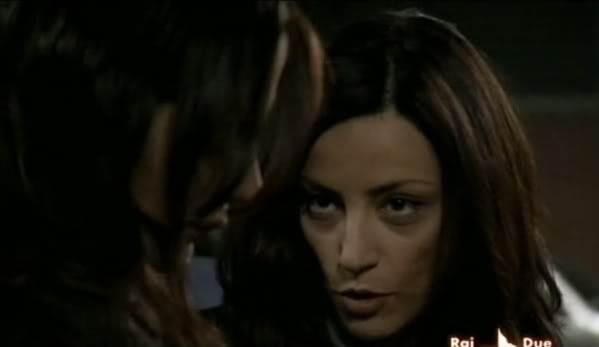 Marina: "Let me get this straight… or not that straight. You want to spend Christmas with me? You remember the part where I'm the evil lesbian who wouldn't mind kissing you again?- Are you sure?"
…
Esther: "Actually, I'm looking forward to that part… And, well, to simply spending time with you."
…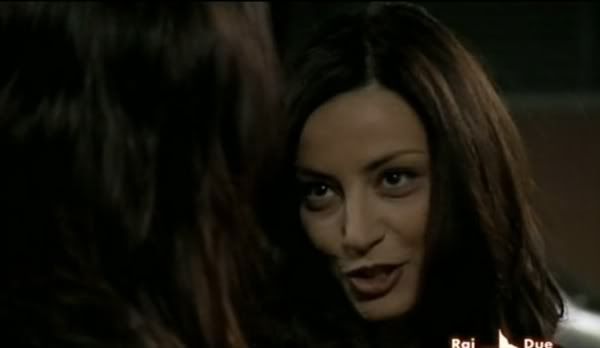 Marina: "You planned all this… (and I'm completely smitten with you)"
…
Esther (silly grin): "I wanted to surprise you… Oh, and I also ordered more firewood."
…
Marina (silly grin): "This is going to be the best Christmas ever!"
…
Esther: "Wait until you see your Christmas gift…"
Marina: "Hm, does it involve those boots you're wearing?"
…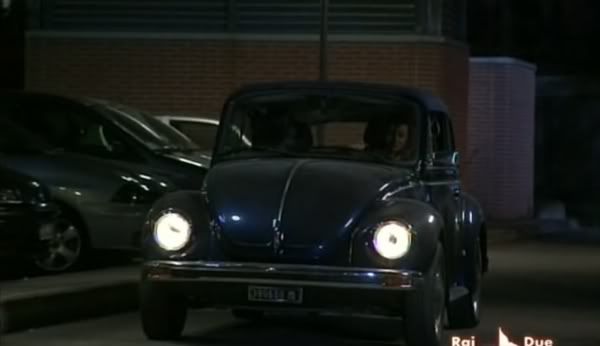 Esther: "Well, perhaps if you're very, very good…"
Marina: "Uhm, Esther? Not that I mind, but if you leave your hand there, I'll drive us against a tree within the next five minutes…"
…
---
Note: If you have any TdU fan art – music videos, icons, graphics, wallpapers, fan fiction, cartoons, character figurines folded origami style, etc. – that you would like to see included/mentioned in one of the next "Marina/Esther – Withdrawals" editions, post your links in the comments or leave me a message with "Marina/Esther" in the subject line at aniklachev [at] web [dot] de.