Marina/Esther – against the withdrawals XII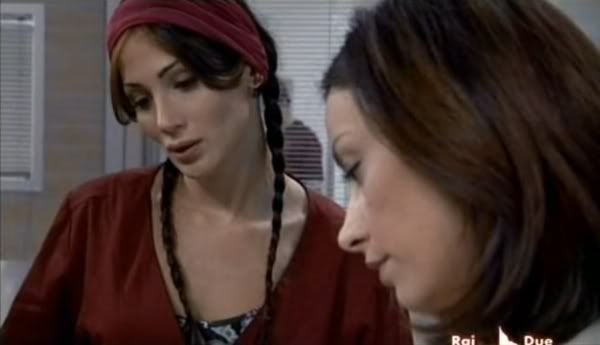 "Those are the airing schedules for January? You've got to be kidding me…"
"Yes, it looks like it'll be more interesting to watch the laundry swirl by. By the way, I put the black silk nightie into the handwash program. It might be ready to wear again by tomorrow…"
…
Welcome, all ye faithful, to the 12th edition of ATW. See, we've already survived the first trimester of the wait until summer, and it hasn't been that bad. Granted, it could have been better (hello, programming execs?) but at least we're still here and alive and kicking, and the same goes for the fandom.
This week new in videos: Lang pointed me to an English subtitles version of the short film directed by Elisabetta Rocchetti that we already linked to in Italian only earlier. If you prefer the English veriosn, you can find it here.
No news in photos and graphics this week, but at least the folks over at the AB Fanclub have been busy and are presenting the new design of their website. There are new photos to click through on the title page, though…
Across not the big pond, but a vast array of land (and that pesky Ural that keeps is on different continents), Lang continues her TdU writing, which comes even out witty and insghitful when you use the Google Translator, which means it has to be positively brilliant in Chinese.
As for fiction, there are a few new posts on the Italian board, while Artemia (still on the road) has announced the possible arrival of one ort wo more chapters of her English Marina/Esther fic, "Life turns" in time for ATW XIII.
And if your idel fingers feel like poll voting, there are always the TVBlog Awards, hosted by one of Italy's bigger television blogs – here's the poll where you can vote for Italy's best series this season (and here's the thread on the Italian board to rant about it).
…
Marina/Esther ATW XIII – screenshot edition:
"From the Secret Diaries of zizzi76″
Hello. My name is zizzi76 and I run this place.
…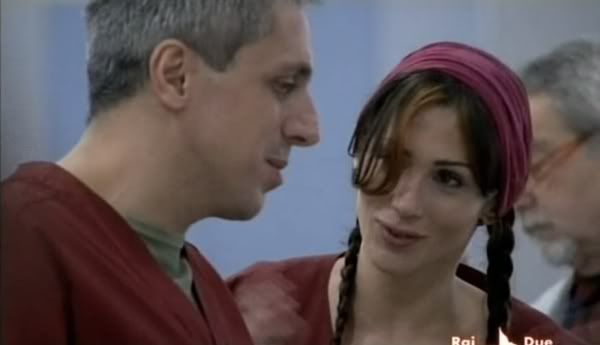 These are two of my direct employees. Sometimes a little dense, but overall good people.
…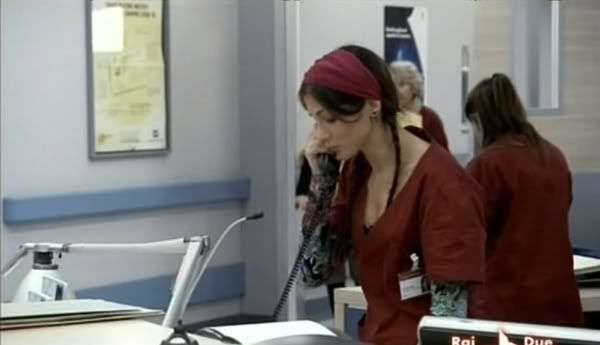 Still, I've been worried about Esther lately. There she is, whispering on the phone again. And don't think I didn't notice the tiny lacy black number of a bra she's wearing! Mind you, it's almost as if she wants someone to see it. And, dear diary, I won't rest until I find out who it is.

…
Rocco tells me he has know idea whether Esther is seeing anyone. I don't believe a word of it. He has to have noticed how much she is smiling lately. And then there is the increase in lace underwear. That's got to mean something. I'm so distracted that I forget to enjoy lunch.
…

Ah, and here comes my favorite distraction: Pretty Palumbo. One of the real perks of working in this place. Nobody looks as good as he does in a white coat. Well, and probably also out of it, but that is unfortunately not something I could judge. (although perhaps I should suggest to maintenance that to prevent soap robbery, we also need surveillance cameras in the gentlemen's showers. Hm. Must write a memo on that.)
…
Oh, and here comes my favorite enemy: La Ranieri. She could have walked out of one of these telenovelas – not that I am watching any, mind you, I wouldn't even know that there is a television in the nurses' lounge! – rich, beautiful, and blue-blooded to boot. She just begs to be resented! Lucikily, she is also a stuck up ice queen and making her mad is almost as much fun as flirting with Pretty P. Almost.
…

"Look at that, Esther – the Ranieri decked out in a velvet coat. Next week, she'll probably wear riding boots with it, and the week after that, she'll demand that someone park her steed… pfff, really, aristocrats are so ridiculously old-fashioned. Esther? ….Esther??" – If she really is seeing a new man, he has to be quite something to keep her that distracted. – I still don't get what was wrong with Aldo, though. Granted, he partied around and slept with at least three other nurses on Esther's shift, but what's a woman got to do? It's not like we have Fairy Tale Princes coming through here. All we get is Haughty Countess R.

…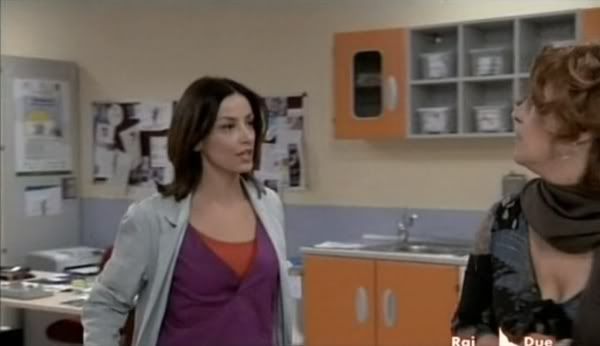 She has quite a temper, too. Last time I accidentally had nothing to do in the office where I found her, she was scaring a grandmother who was just talking about her papal experiences.
…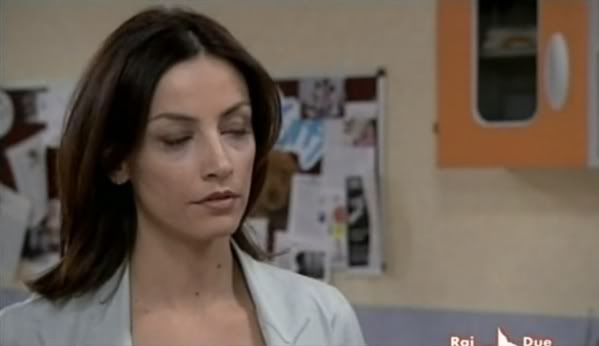 Sometimes I really wonder what is going on in that mind of hers. Not that I want to know in too much detail – I saw enough when she was making out with that ex of hers (well, Esther says that the Ranieri says it was an ex, but that is not what it looked like, I'm telling you!). You'd think that she'd be smart enough to close the blinds beforehand.
…

And there is Esther on the phone again, whispering and with that Bambi look. She's not talking to the plumber to fix the heating in her father's apartment, that's for sure.

…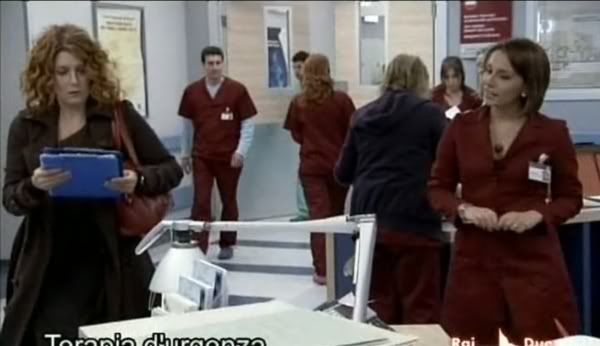 "Hey Giulia, how's the weather? Nice to see you… Uhm, you wouldn't have noticed any changes in Esther lately, would you? You know, the smiles, the fancy underwear, the arriving to work all dolled up… is she taking extended visits to any stations?" — And it better be nowhere near Pretty P.!
…
Giulia say she has no idea what I am talking about. In fact, she gives me back the observation sheet I made for her completely empty. Bugger. I will have to switch to personal observation.
…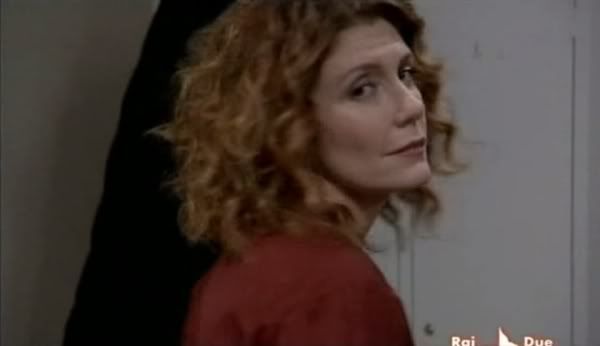 Also, Giulia is SO seeing someone. No reason to look that good at work if there isn't a cause in a labcoat running around.
…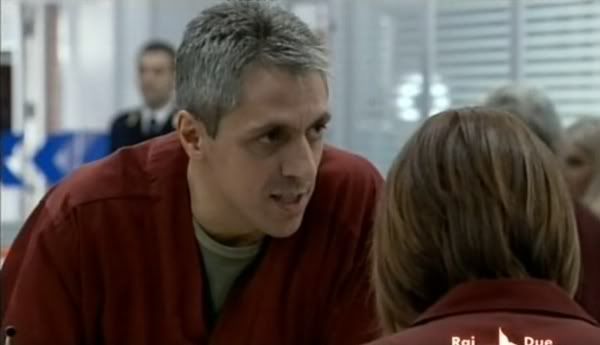 "Well, Terry – any new gossip to go with my lunch?"
…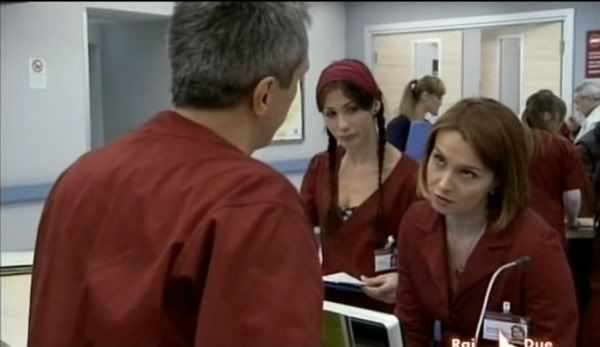 "How many times have I told you it's called NETWORKING. We don't gossip."
…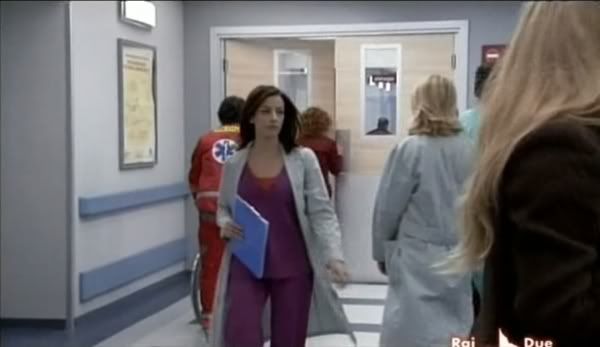 Ah wait, there is the Ranieri… perhaps I have more luck there. That woman always forgets to close the blinds.
…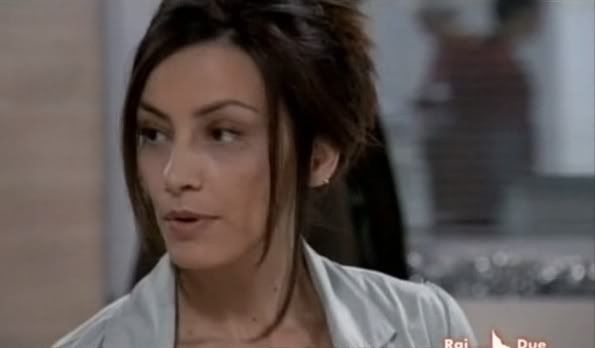 Hmm. New hairdo. – I wonder if she made up with her ex? Another pediatrician, although she appears to hide the fact that she's gay. When I called the receptionist in her clinic, the poor woman had no idea that dear Dr. Vera was gay!
…

I bet that's love letters. And with several pages, too! – It's got to be another woman. No man ever wrote me more than "Get beer" and pinned it to the fridge. Men don't write long letters… apart from being completely wrong, this lesbian thing does have its perks.

…

Me? Looking at the footage from the surveillance cameras? Why, never…
…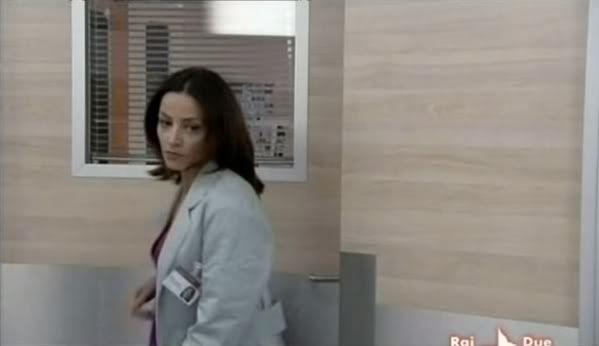 Ah, now where is the Countess headed? She seems to be in a hurry. And she is using the back staircase, even though that stuck elevator problem we had on and off during the last weeks finally seems to be resolved. I better check on her, to make sure she draws the blinds…
…

She is having coffee with Esther…? I think a home call is due.
…
"Ranieri Family Estate? No, I'm not a wine buyer, but you wouldn't happen to know whom your wayward daughter Marina is currently dating? – Ah. Abomination. I see. – Yes, I am sure that your Chianti is exquisite. Now, back to Marina…"
…

I finally corner the Ranieri in the Chief's office, under the excuse of bringing coffee (although it's very tiresome to damage the machine he has in his office first every time…) – she doesn't want coffee, though, and says she has no idea what I am talking about.
…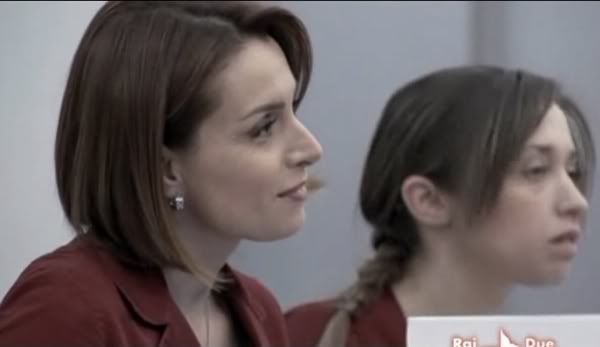 Yeah, right, Miss "I-forgot-to-close-the-blinds". I don't believe a word of it (note to self: find out what "You do have nice legs, though." means in Lesbianese. It may be a secret code!)
…

La Ranieri seems to be daydreaming a lot lately…

…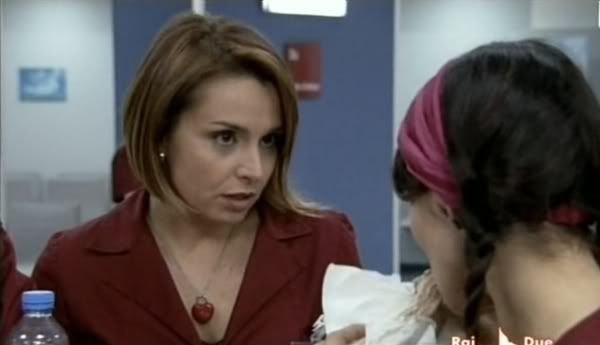 "And did she ever say anything about your legs? No? – No, no reason, I am just researching strange indigenous initiation rights. And, I mean, if you were seeing someone new, you would tell me, right?"
…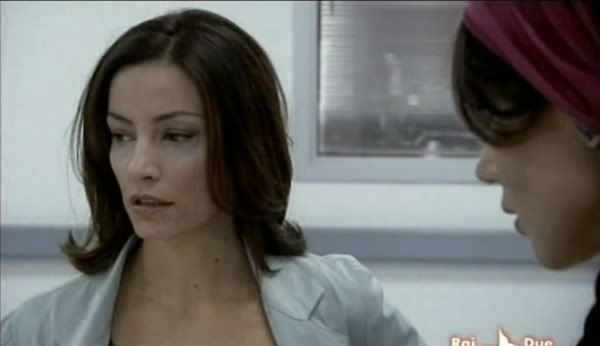 She is doing it again. She is looking at my legs!
…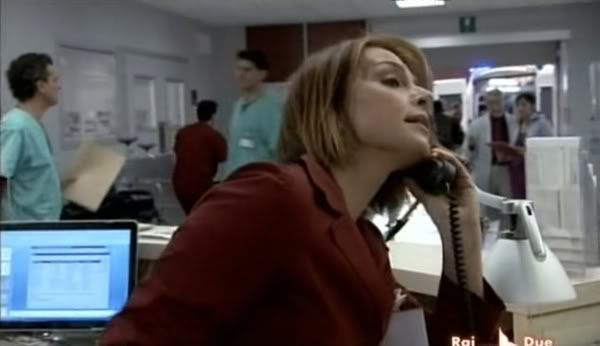 "Yes, I need an expert on lesbianism, stat! Uh, hold on a moment…" – Damn, now she disappeared around the corner!
…

"Me? Why would I do any research on lesbians?" (let's hope she won't notice the protective super-straight amulet I got on Ebay!)
…

And there they are again! Hmm, perhaps she is telling Esther about that new girlfriend… I mean, that person that she has in her seductive clutches! It's shocking, completely shocking!
…

Wait. My Esther wouldn't tell that uptight Countess about her new man, would she now? Telling her, and not me?
…

Afternoon break. I try my extortion glare on Esther. Without success.
…

I get a chance to verify that the lacy underwear trend seems to be spreading through the female staff. It's completely irrelevant and not the least bit interesting that it looks great on Dr. R. – Side note: need to do more research on lesbian codes.
…

"Networking. How many times do I have to repeat that it is called networking?!" – Esther still isn't talking. I may have to check the changing rooms.

…

I hope the door isn't creaking…
…

Oops!
…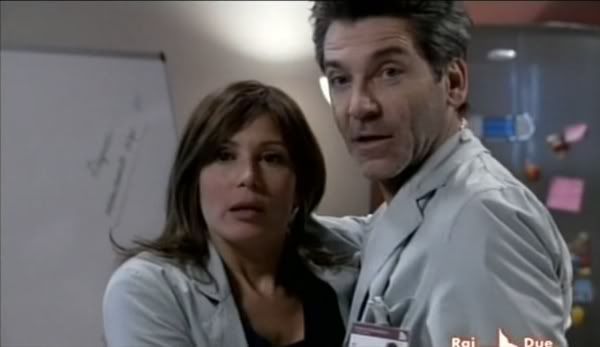 "Sorry, didn't mean to interrupt. And don't worry, I won't tell anyone. My lips are sealed!"  – Why are they giving me these frightened glares…?

…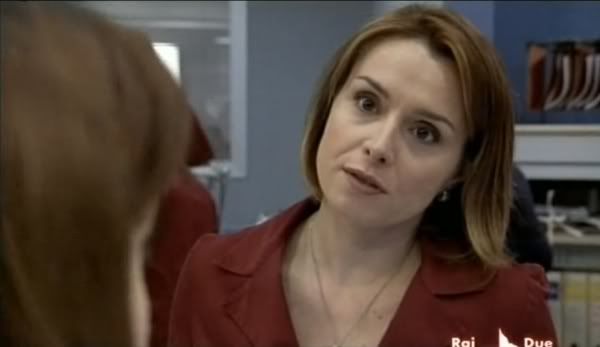 …I mean, really – would I ever tell anyone?
…

Hm, let's see whether I have more luck here…
…

Ha. Esther talking to the Countess. They seem to be too busy to notice my shadow at the door. Also, you can count on the Ranieri: she left the blinds open again. – Should I be worried?
…

Wait, what kind of glance is that? And is that a ghost of a smile?
…

*gasp* Esther! Whatever you're doing, it's called flirting with a capital F!
…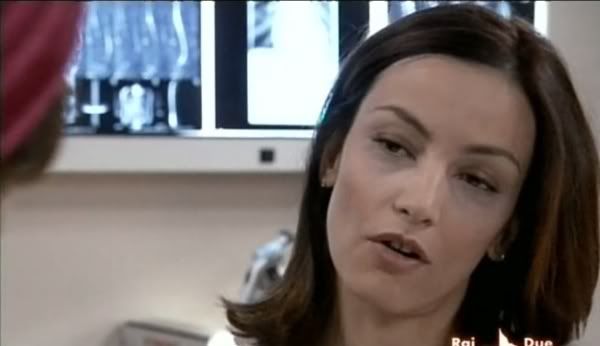 Fine. She speaks so low that I can't understand what she says, but she is not asking about the weather report! I can't believe what I'm seeing. Shocking!! – Good thing I taped it all to analyze it later.

…

I'm replaying the video for Rocco over coffee break. He can't believe it, either.
…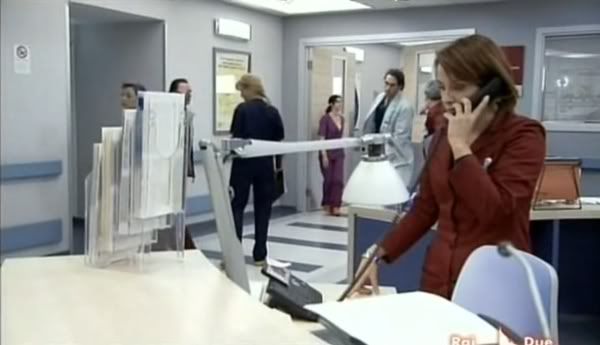 To calm myself, I call Pretty P. – "Hello…. oh, nothing, I have no files down here that you would need to sign in any way whatsoever… no, there aren't any new patients, either…"
…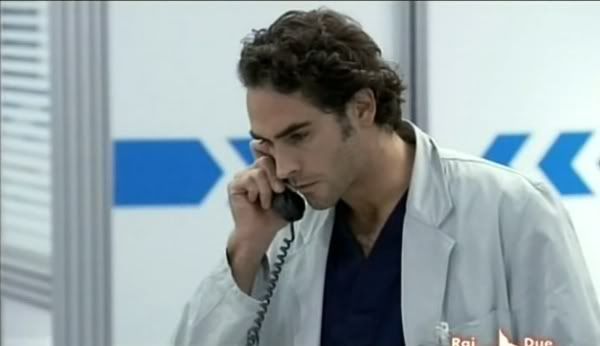 Pretty P. says he's been waiting for the elevator for more than ten minutes. He sounds a little grumpy, but so what, he's still sexy as hell. Of course I offer him to come by with my general key set and take a look at that elevator for him. Perhaps we could get stuck…

…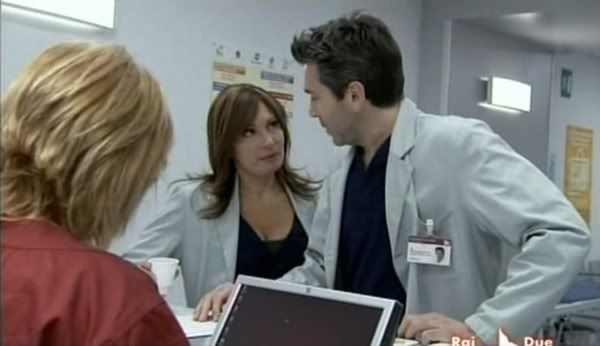 Oh, and by the way: Those two? SO obvious!
…

So, let's see what's going on in here. – Really, the things I do for Pretty P.! Walk the stairs up to the fourth floor. Stupid elevator probl…
…

WHEEEEEOW!!!!
…

Lock the door, disappear unseen, try to catch breath. Holy God! – I can't believe I've been too blind to recognize what is going on. Bad for my reputation! – Also, I can't believe I was so stunned that I forgot to film it. Damn, that would have been terrific material for the "Terry's Late Hour" hospital broadcast!
…

But it's been obvious for a while. It's in the way Marina looks at Esther…
…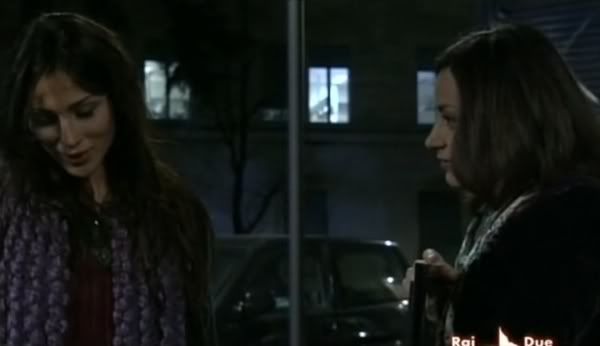 …and then all those evenings she drives Esther home? Granted, Esther doesn't have a car, but there's no reason for flirting in the freezing parking lot at those hours…
…

…and car or not, does Esther really have to wear those boots when Marina offers her a ride?!
…

"Alfie dear, it's me. Would you mind drawing me a hot bath and putting the vodka in the freezer? – You wouldn't believe the day I've had…"

…
---
Note: If you have any TdU fan art – music videos, icons, graphics, wallpapers, fan fiction, cartoons, character figurines folded origami style, etc. – that you would like to see included/mentioned in one of the next "Marina/Esther – Withdrawals" editions, post your links in the comments or leave me a message with "Marina/Esther" in the subject line at aniklachev [at] web [dot] de.